Ask for Denny! Celebrating his 50th year of full time balloon flight services!
Personalized balloon flights where your safety & satisfaction is our highest priority.
We have the largest balloon in the area specializing in private family outings of up to 8 people. Contact Denny for special pricing.
Come take an enchanting and peaceful HOT AIR BALLOON RIDE with New Jersey's most experienced balloon team over the lollipop green hills of north-west New Jersey. You will spend a relaxing hour floating over patchwork farmland, fragrant apple orchards, pastures and magnificent old estates ...and see the world from a dreamy perspective.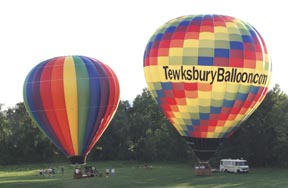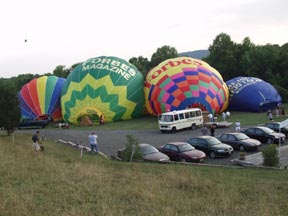 Complete with a champagne toast in the manner of the first balloonist in France, you step into a comfortable wicker basket and in the words of the poet, Conrad Aiken,"...depart on the winds of space." It's not just flying, it's floating...just skimming the tree tops so that you can be pleasantly detached from earth, and yet close enough to see deer leaping through the woods below, hear the lazy lowing of cattle and the neighing of horses. Come be our guests.
Flights scheduled every evening about two hours before sunset from May thru October.
We are New Jersey's only ballooning company to offer exclusively your own private licensed Balloonport.
It's a fun way to celebrate a Birthday or Anniversary, or to kick off an intimate dinner party. There are several fine restaurants near our Balloonport.
Gift certificates are available.

Contact Information
Phone

(908) 439-3320

Balloonport Address

29 Oldwick Road, Whitehouse Sta., NJ 08889

E-mail